MOT Testing helps to make regions roads safer
MOT testing in Darlington & Stockton helps to make the countries roads safer thanks to new rules introduced to the MOT test in May 2018.  The new rules have helped to clear Britain's roads of three million potentially lethal vehicles in the first 12 months.  Almost a third of cars, van and motorcycles put through the annual assessment in the first year failed the test because of dangerous defects.  These vehicles had to either be removed from the roads entirely or fully repaired and retested before owners were legally allowed to drive them again.  This included new defect categories – minor, major and dangerous – to help motorists better understand what was wrong with their vehicles.  All major and dangerous issues result in an automatic test failure, while the latter recommends that the defect in question should be repaired before the car can be driven again.
Top 10 failure reasons for class 3&4 cars and vans (May 2018-May 2019)
Lamps, reflectors and electrical equipment – 14.9%
Suspension – 18.3%
Brakes – 8.8%
Tyres – 6.8%
Visibility – 6.1%
Body, chassis, structure – 4.7%
Noise, emissions, leaks – 3.9%
Steering – 2.2%
Seat belts – 1.5%
Identification of the vehicle – 0.5%

New Stricter Rules for Diesel Emission checks as part of the MOT from May 2018 Include:
can see smoke of any colour coming from the exhaust
finds evidence that the DPF has been tampered with
Other new checks include:
if tyres are obviously underinflated
if the brake fluid has been contaminated
for fluid leaks posing an environmental risk
brake pad warning lights and if brake pads or discs are missing
reversing lights on vehicles first used from 1 September 2009
headlight washers on vehicles first used from 1 September 2009 (if they have them)
daytime running lights on vehicles first used from 1 March 2018 (most of these vehicles will have their first MOT in 2021 when they're 3 years old)
Source: DVSA
Clarifying what to do if your Vehicle fails its MOT
There has been some confusion over how the customers vehicle stands once it has failed its MOT.  The DVSA's Neil Barlow (Head of MOT policy) clarified the rule by saying: 'If a car has failed its MOT with a dangerous fault, DVSA's advice is that it should not be driven until the defect is repaired.  This is because it's dangerous to both the driver and other road users." However, he then confirmed: "Garages are unable to prevent owners from driving their cars away".

Motorcycles
The first full-year results of the updated test showed that motorcycles had the highest pass rates of all vehicle types.  With 83 per cent sailing through the MOT.
1 in 10 motorbikes fail an MOT for faulty lamps
Some nine per cent of motorcycles failed the MOT due to faulty lamps or reflectors in the first year of DVSA making the test more difficult.
Just over 88,000 motorcycles failed for this reason alone, the data showed.
It also found that nearly one in 20 bikes failed because of defective brakes.
The data shows that there was a total of 951,741 initial motorcycle MOTs taken in the first year of the new MOT.
Of these, 48,883 had dangerous defects and so were taken off the road or repaired. This underlines the MOT's clear contribution to road safety.
There was a total of 161,852 initial failures (17 per cent).
Cars & Vans
Class 3 and 4 cars, vans and passenger vehicles with up to 12 seats had a 66.7 per cent success rate.  While Class 5 motors (private passenger vehicles with more than 12 seats) were slightly higher at 70.3 per cent.
Heavy Goods
Worryingly, it was the heaviest of all vehicle types.  Class 7 vehicles that tip the scales between two and 35 tonnes – that had the highest failure rates, with just 40 per cent passing the test.
Air Quality
DVSA's data also showed that the new tougher MOT emission tests introduced in May 2018 have also made a significant contribution to improving air quality.
Nearly 1.2 million (1,151,976) vehicles failed the MOT as a result of poor emissions.
These have been repaired or taken off the road, thus helping improve the environment, the government agency said.

False Belief
The MOT is a once a year health check, but it does not guarantee that a vehicle is safe to driver for the entire 12 months after the test.
New research revealed this week that almost half of UK drivers believed they did not have to have their cars checked during the year because they thought an MOT was security enough.
While the DVSA said the MOT test has made Britain's roads safer, it said that around a quarter of vehicles get their MOTs late.
As a result there could be hundreds of thousands of dangerous vehicles overdue for their MOT.
Neil Barlow added: "DVSA's priority is helping everyone keep their vehicle safe to drive.  'Thanks to the MOT, three million dangerous vehicles have been taken off the road. But with a quarter of cars turning up late for MOT every year, that means there are lots of potentially dangerous vehicles badly in need of inspection.
MOT Testing from the Auto Care Group
The Auto Care Group offer MOT Testing on Class 4 (Cars and light Vans) and Class 7 (Goods Vehicles (over 3,000kg up to 3,500kg design gross weight).  MOT testing in Stockton at our Teesdale Tyre & Auto Care site offer class 4 and class 7.  MOT Testing at our Darlington Tyre & Auto Care Site is offered on class 4 only.
You can book your MOT in Darlington & Stockton (Teesdale) for your vehicle up to 30 days before your old MOT ticket expires, without losing the anniversary date. Book your MOT Test with the Auto Care Group today.
We also offer Tyres, Servicing on all makes and models without invalidating your manufacturers warranty. Brakes, Exhausts, Wheel Alignment and much more
Making Darlington's roads safer – Book your MOT test at Darlington Tyre & Auto Care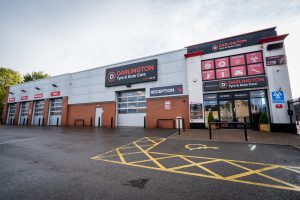 Making Stockton's roads safer – Book your MOT test at Teesdale Tyre & Auto Care